What can you say about the Concept2 RowErg? If you have ever been to a gym and used a rower, it is most likely a Concept2 rower.
The RowErg provides a smooth rowing experience, is easy to maintain and made to last. It is used by professional athletes for their training as well as beginner, it can deal with intense workouts over a long period of time.
Other popular Concept2 products are the skierg and bikeerg. You will often find these product in your local gym as well.
ACCURATE WORKOUT DATA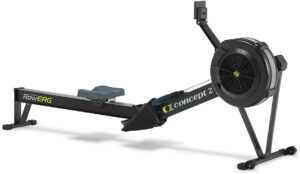 Equipped with the powerful PM5 Performance Monitor, which comes standard with every RowErg, you can expect consistent and comparable data for each workout.
The PM5 offers a straightforward "Just Row" mode or the option to set up various workout programs. When I got started, I just used the easy Just Row function to help me get started without any hassles.
The monitor displays a wide range of data, including pace, watts, stroke rate, and calories burned, and it automatically stores this information in its internal memory or a USB drive. Great to keep track of how you are progressing towards your goals.
CONNECTED TRAINING USING CONCEPT2 ROWERG
For a more immersive training experience, live competitions, or coaching options, there are compatible apps available. The PM5 is an open platform, allowing wireless Bluetooth connectivity with a variety of apps that provide the motivation and support you desire in your training. If you need extra motivation or help with your fitness program, this is a great feature.
It is also compatible with ANT+ heart rate equipment and devices.
FLYWHEEL AND DAMPER
The RowErg utilizes air resistance, which responds to your effort with every stroke, granting you complete control over your exertion and resistance at all times. The spiral damper allows easy adjustment of the airflow to the flywheel, enabling you to customize the stroke's feel according to your preference. The flywheel design minimizes noise while providing a smooth rowing experience.
STORAGE AND MOBILITY
I have seen the RowErg moved around on its wheels and it is quite easy. It can also be easily folded up for convenient storage. If you want you can also quickly disassemble into two pieces, making it compact for storage. This is useful when you have limited space. The elevated version's taller legs feature large caster wheels, facilitating easier movement.
ADJUSTABLE FOOTRESTS AND ERGONOMIC HANDLE
The Concept2 RowErg includes adjustable footrests that can be quickly and easily sized to accommodate a wide range of shoe sizes.
You can row comfortably with a natural arm and hand position this is to the design of the Concept2 RowErg.
EASY ASSEMBLY FOR THE CONCEPT2 ROWERG
Assembling the RowErg is a simple task that only requires the installation of the front legs. Concept2 provide all the necessary tools and clear, illustrated instructions, making the process take only 20-30 minutes.
DURABLE CONSTRUCTION AND EASY MAINTENANCE
Concept 2 products are durable and are used in gyms for this reason.
In Summary: Concept2 RowErg
The Concept2 Rowerg is an investment that will pay off over time due to its sturdy construction. It has a range of features to engage you such as connectivity to apps to assist with your fitness program, reliable data so you can assess your progress. The damper allows you to adjust the feel of the stroke to suit your needs. If you want to try before you buy, visit a local gym for a trial, I am sure you will find the Concept2 rowing machine.