Yosuda has been a trusted name in the fitness industry for 20 years and the Yosuda Magnetic/Water Rowing Machine lives up to this expectation. This popular indoor rowing machine offers a full body work out, that is enjoyable. If you are already convinced this is the one for you, check it out!
Quality and Durability: Yosuda Magnetic/Water Rowing Machine
This rowing machine is praised by users for its heavy gauge steel construction and quality build. It's is a budget-friendly option that offers excellent value, making it accessible to a wide range of users.
Never Worry about Water Leakage
So have you ever worried that your water rowing machine will leak? With the Yosuda magnetic/water rowing machine, the Aviation-standard Polycarbonate tank, bearings, and EPDM Rubber Sealing ring ensure that water leakage is a not going to be a problem.
This attention to detail in construction guarantees a long-lasting product free from the common problems of broken tanks and rusted screws.
Performance and Experience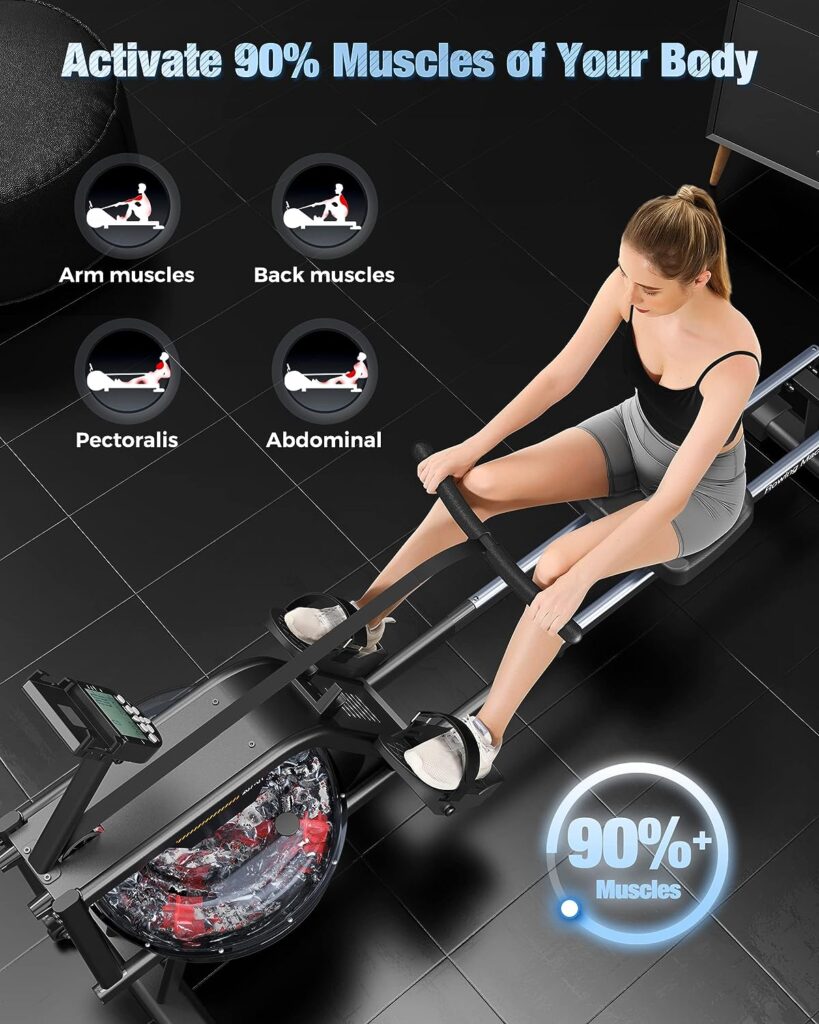 Full-Body Muscle Workout
As mentioned in previous article, indoor rowing machines offer a fully body work out. Scientifically designed to engage 90% of muscle groups, this rowing machine offers a smooth, high calorie-burning motion. Whether your goal is physical therapy, weight loss, body-building, or stress relief, this machine is up to the task.
Performance
he rower offers a smooth and satisfying workout experience with 16 levels of tension. It's suitable for both beginners and more experienced rowers, providing a versatile workout option.
Noise Level
Users appreciate how quiet the machine is, making it suitable for use in shared living spaces or while others are sleeping.
Authentic Rowing Experience
The double aluminum alloy slide rails of the Yosuda magnetic/water rowing machine provides a smooth, quiet, and stable rowing movement. The super soft seat is ergonomically designed to fit the hip curve, ensuring comfort throughout your workout.
Comfort and Design: Yosuda Magnetic/Water Rowing Machine
Comfort:
The seat and handlebars are generally comfortable, though some users mentioned that additional padding might be needed for extended use.
Weight Capacity
The maximum weight recommendation for this indoor rower is 350 pounds.
Design:
The machine has a small footprint and can be folded for storage. Some taller users mentioned that the range of motion might feel a bit short, but this does not detract from its overall functionality.
Technology and Convenience
Dedicated Monitor & Bluetooth APP
The rowing-dedicated monitor and compatibility with FITSHOW and KINOMAP APPs offer a modern, connected experience. Join live classes, work out with a virtual personal trainer, and share your data with communities for a fully interactive fitness journey.
Space Saving & Easy to Move: Yosuda Magnetic/Water Rowing Machine
The compact design and two wheels make this rowing machine a perfect fit for any home, apartment, or fitness room. Its mobility is a great feature, especially for women and seniors.
Assembly
Some users found the assembly to be a bit challenging, but most were able to put it together within an hour. Watching a video guide on YouTube can be helpful.
Minor Issues
A few users noted small issues like the slide rail sitting at an angle and the monitor being basic, but these were not deal-breakers for most.
In Summary
The Yosuda Magnetic/Water Rowing Machine is a well-rounded fitness tool that combines quality, performance, technology, comfort, and convenience. Its thoughtful design, robust construction, and budget-friendly price make it a valuable addition to any fitness routine.
While there may be minor issues and mixed experiences with customer support, the overall satisfaction and benefits of this machine make it a wise investment for anyone looking to enhance their fitness journey.