When it comes to home fitness equipment, foldable rowing machine have gained significant popularity due to their versatility and space-saving design. However, not all foldable rowing machines are created equal, and it's crucial to look for certain features that can greatly enhance your rowing experience.
Portability and Space-Saving Design
One of the primary advantages of a foldable rowing machine is its portability and space-saving design. Look for a machine that can be easily folded and stored in a compact space, such as a closet or under the bed. This feature is particularly beneficial for individuals with limited workout areas or those who frequently move their equipment. Portability allows you to set up your rowing machine in different rooms or even take it outdoors for a refreshing workout session.
Weight Capacity
It's crucial to choose a foldable rowing machine that can accommodate your weight and the weight of other potential users. Check the weight capacity of the machine to ensure it can handle the load without compromising stability or performance.
Additionally, if you are going to moving your foldable rowing machine around check features such as the weight of the machine and whether it has wheels to assist to move from one location to another.
Durability
Investing in a well-built and durable foldable rowing machine ensures that you can enjoy years of effective workouts without worrying about wear and tear.
The Top 5 Foldable Rowing Machines
5. Ancheer Rowing Machine- Magnetic Rowing Machine for Home Use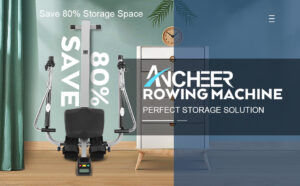 The Ancheer rowing machine is easy to store if you are not using on a daily basis. It will fit perfectly in your hall closet or behind your sofa, which makes it great for apartments or small spaces. Easy to set up which is important.
It has 10 resistance levels which makes it good for beginners and those further along in their rowing journey. It is a quiet rowing machine, which uses a magnetic flywheel which produces little to no noise.
You can track your progress on the digital monitor, which has time, counting, total counting, calorie and scan function. It has a maximum Weight recommendation of 265 pounds.
It is a good price and able to be stored in small spaces.
4. Echanfit Rowing Machine – ECHANFIT Magnetic Rowing Machine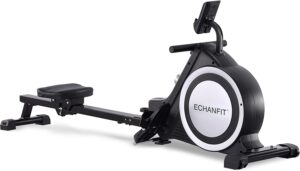 The Echanfit Magnetic Rowing Machine is a foldable rowing machine, that can can be folded upright for quick storage.
It has a magnetic resistance system, with 16 resistance levels. It is a quiet rowing machine, which is good if you want to work out in the same space as others be it your family or house mates.
Like most rowing machines it has a LCD monitor to monitor your statistics. It has the benefit of a an optional free app to help you stay motivated. With the built-in Bluetooth you can join in fitness programs and enjoy the different scenery while completing your exercise. This rowing machine has a maximum weight of 350 pounds.
I love the fact you can free training app that allows you to access training programs. If you find that you don't know how to get started, this will definitely help.
3. Stamina Rowing Machine – Stamina Body Trac Glider 1050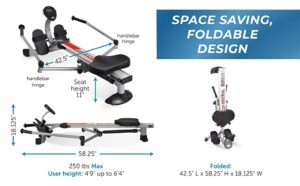 This Stamina Rowing Machine – Stamina Body Trac Glider 1050 Hydraulic Rowing Machine with Smart Workout App is easy to store in small spaces, folded is 42.5"L X 58.25"H X 18.125"W. If you want to exercise but have a lot of space this indoor rower may be for you.
It uses a hydraulic cylinder resistance and has 12 levels of resistance. You also have the benefit with this Stamina rower of access to a smart workout app, you can follow along without having to work out your own fitness workout. The heaviest weight for this rower is 250 lbs, with a maximum height of 6'4".
It is a great rower for a great price, with the added benefit of an app being available to help with work outs.
2. Sunny Health & Fitness Smart Magnetic Rowing Machine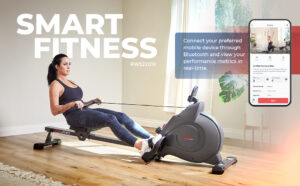 The classic Sunny Health & Fitness Smart Magnetic Rowing Machine (Model SF-RW5515) is easy to store when not in use. It is as easy to do, all you need to do is remove a pin to allow the rowing machine to fold in half. At this time the slide rail will fold upward, allowing it to be stored upright. This makes it a great rowing machine for storing in tight area.
It also has wheels built-in which allows for better portability. The weight limit on this rower is 250 pounds. With any extended slide rail, this suits rowers of nearly any size. This rowing machine has magnetic resistance at 8 levels. It has an optional SunnyFit App.
The above is information for the classic model, which is at a cheaper price point. However, there is an updated model at a slightly higher price point. This model is SF-RW522016. With Bluetooth connectivity, the SunnyFit app allows you to access free rowing and fitness programs, great to get you motivated.
1. YOSUDA Magnetic Rowing Machine – Foldable Rowing machine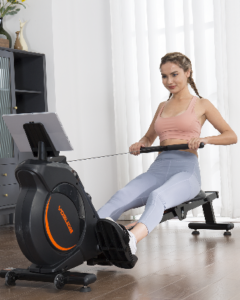 The Yosuda Magnetic rowing machine is a foldable rowing machine that is a popular choice for a number of reasons – the price is affordable, and it is portable. To assist with moving this rower has two bigger wheels. It can be stored in an area with dimensions of 28.7"L and 19.3"W.
It has a magnetic resistance system which makes it a quiet rowing machine, which will make your neighbours happy. If weight is a concern for you, don't worry as this rower can support 350 lb and is suitable for a someone who is 6'6"inches in height.
There are 16 resistance levels, which allows you to adjust the resistance as you grow as a rower and your fitness improves. This makes it suitable for beginners and more advanced rowers. Rowing is perfect for rehabilitative treatment (under guidance of your doctor) and weight loss.
You can track your performance as the easy to read LCD monitor which displays your distance, rowing time, count, total count and calories. Let your fitness journey begin with this great rowing machine.
For the price this foldable rowing machine is a great option.
In summary
In conclusion, when looking for a foldable rowing machine, it's important to consider several key features. Portability and space-saving design allow for easy storage and transportation. Sturdy construction and durability ensure a long-lasting investment. Adjustable resistance levels provide customization for different fitness levels and goals.
Comfort and ergonomics enhance the overall rowing experience. Console features and tracking allow you to monitor your progress and stay motivated. Noise level is crucial for a peaceful workout environment. Weight capacity and user-friendliness cater to different users' needs.
Price range and value for money help you make a wise investment. Lastly, maintenance and warranty ensure the machine's longevity and provide peace of mind.
Choose a foldable rowing machine that aligns with your specific needs, preferences, and budget. With the right machine, you can enjoy the benefits of rowing conveniently in the comfort of your own home.
FAQ
1. Are foldable rowing machines suitable for all fitness levels?
Yes, foldable rowing machines often come with adjustable resistance levels, making them suitable for beginners to advanced users.
2. How much space does a foldable rowing machine require when folded?
The space required can vary, but most foldable rowing machines are designed to be compact and easily stored in closets, under beds, or against walls.
3. Can I use a foldable rowing machine in an apartment without disturbing my neighbors?
Yes, many foldable rowing machines are designed to operate quietly, minimizing noise disruptions.
4. What is a suitable warranty period for a foldable rowing machine?
A warranty period of at least one year is desirable, but some manufacturers offer longer warranties. Choose a machine with a warranty that provides adequate coverage for any potential issues.
Remember to refer to the specific product specifications and user manuals for detailed information and instructions related to the foldable rowing machine you choose. Happy rowing!