We have discussed the benefits of using a rowing machine and you have started on your rowing journey. You are pumped and are ready to give it your all. But then you find your rowing seat is uncomfortable, the solution may be a rowing seat pad.
Importance of Comfort in Rowing
Now, let's talk about the elephant in the room – or rather, the discomfort in your rear. Yes, I'm talking about these darn uncomfortable seats!
The Role of a Rowing Seat Pad
You wouldn't wear shoes that don't fit, would you? A rowing seat pad is like that perfect pair of shoes for your bottom. It provides cushioning and support, turning your workout into a fantastic experience. Believe me; your glutes will thank you. You may be lucky and have the perfect seat on your rowing machine, but if you don't you may want to explore the options below?
Overview of Best Rowing Seat Pad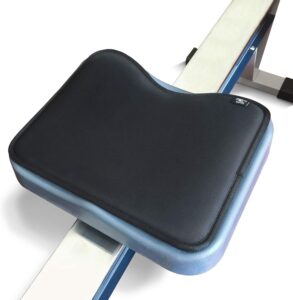 Designed Specifically for the Concept 2 Rowing Machine: This seat cushion in black is designed to perfectly match the specifications of the Concept 2 rowing machine's seat, this ensures a snug fit. It is also compatible with other models like the Hydrow.
Enhanced Anti-Slip Technology: The cushion's underside is equipped with a durable and advanced anti-slip fabric, this ensures it remains in place during your workout sessions.
Premium Quality PU Foam Core: The cushion's core is made of polyurethane foam of sports-grade quality, striking the perfect balance between comfort and support during your exercise routine.
Designed for Regular Usage: Incorporating this rowing machine seat cushion into your workout regimen will effectively alleviate pain and discomfort, even after multiple daily rowing sessions.
Effortless Cleaning: Simply wipe the cushion with a damp cloth and allow it to air dry, making the cleaning process quick and hassle-free.
2. 2K Fit Rowing Seat Cushion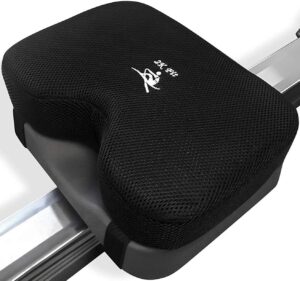 Comfortable for Rowing Machines: This rowing seat pad fits perfectly with the Concept 2 rowing machine, specifically the Model D, Model E, Stationary Recumbent Bike, WaterRower, and Hydrow. Easily place the cushion on the seat and secure it with the straps!
Quality Memory Foam for Optimal Comfort: The Concept 2 seat cushion features 3 inches of custom memory foam, carefully crafted with the ideal density to provide maximum comfort for your tailbone, even during long workout sessions.
Highly Secure and Anti-Slip Design: This rower seat pad is equipped with a high-friction rubberized material that effectively prevents the cushion from slipping off the seat while rowing. Additionally, the two stretch straps and a buckle help to secure it firmly in place.
Easy to Clean Machine Washable Cover: The breathable mesh fabric cover of this Concept 2 seat pad can be easily removed. This allows you to easily clean.
3. Vapor Fitness Silicon Rowing Machine Seat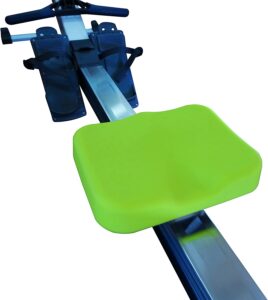 Enhanced Comfort for Long distance rowing: Experience superior comfort during your long-distance rows with the addition of the silicone cover. You'll notice a significant improvement after completing a 10k row compared to using the original seat alone. However, if you're seeking a thick cushion for shorter rows, this product may not be suitable for you.
Stylish and Vibrant: This seat cover not only enhances comfort during long rows but also adds a touch of style to your rower. Three great colors to choose from – yellow, pink, and black.
Made From 100% Silicone: Crafted entirely from durable silicone material, the seat cover offers flexibility and sturdiness. The grippy texture provided by the silicone is particularly beneficial for extended rows. Additionally, cleaning it is effortless with just a small amount of water and soap.
Precisely Designed to Fit Concept 2 Seats: Molded to match the exact shape of the Concept 2 rowing machine seat. It will easily slide over the seat from the top, creating a secure fit that remains in place during your rowing sessions.
Making the Right Choice
Material Considerations
When choosing a seat pad, think about the Goldilocks principle – not too hard, not too soft, but just right. The material should be firm enough to support you but cushy enough to make you feel like royalty.
Size and Thickness
One size doesn't fit all! So, make sure the pad is large enough to accommodate your seat but not to bulky.
Compatibility with Your Rowing Machine
Your seat pad and rowing machine should be like peanut butter and jelly – a perfect match. Make sure they're compatible before you set your heart on one.
In Summary
If your rowing machine has an uncomfortable seat, consider a rowing seat pad. Make sure it is easy to clean and fits the brand of your rowing machine.
FAQ
Do I really need a seat pad for my rowing machine?
If you find your rowing seat comfortable, no. If you are experiencing any discomfort, consider a rowing seat pad.
How do I clean my rowing seat pad?
It depends on the material. Most pads can be wiped down with a damp cloth. Some are even machine washable!
Can I use a rowing seat pad on other exercise machines?
Yes, some pads are versatile enough to be used on stationary bikes or other equipment. Just make sure the size and shape are compatible
How often should I replace my rowing seat pad?
Like all good things, seat pads don't last forever .Keep an eye out for signs of wear and tear, and replace it when it no longer provides sufficient support.